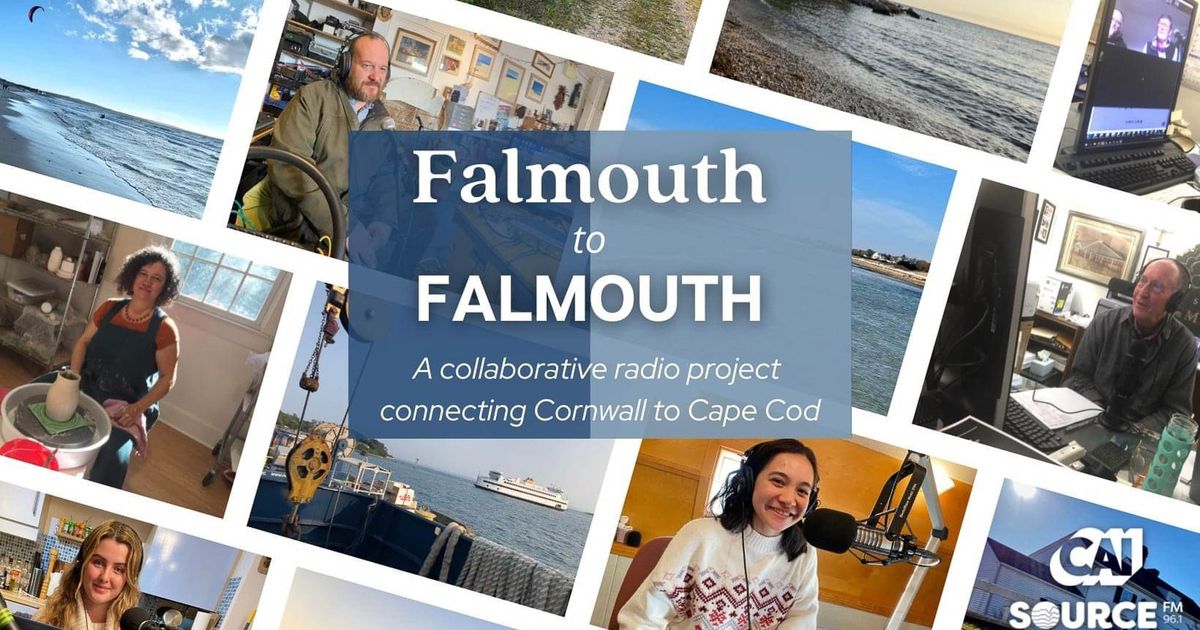 Falmouth to Falmouth
A Unique Radio Collaboration
Steve Junker works for a small, very community-focused public radio station in Falmouth, on Cape Cod, in the US. Being community focused, he was naturally curious about community radio in other places. He had always known that there are towns in England that share names with the towns to which CAI broadcasts. Not just Falmouth, but also Truro, Sandwich, Harwich, Bourne, and on and on.
So, he got to wondering just what community radio was like there. Last winter he sent out a few emails to radio people, saying he was interested in figuring out how they could connect. And by the magic that sometimes guides these things, one of his emails found its way to SourceFM, the community radio station for Falmouth, Penryn, and the surrounding areas.
We at SourceFM were really excited at the prospect of this! – What a perfect idea for an original radio show… and so, Falmouth to Falmouth, connecting people across the Atlantic, was born!
We needed to decide on the format of the show, so producers Steve Junker and Simon Neild set up a production meeting with members of each station. It was decided that we would each create a list of the challenges and issues that we face in our respective communities. We would then invite people from different sectors of the community to meet like-minded people from the other side of the Atlantic.
We did not want this to be conventional radio, where a host interviews the guest. We wanted real people chatting to real people about the challenges they face and life in general in their respective communities.
At the production meeting we both presented our respective lists and were surprised to find that we had each highlighted many of the same issues! The shared list is as follows:
Sea level rise and other impacts of climate change
Offshore wind a growing industry
2nd home ownership and short-term rentals
Affordable housing disappearing for regular working people like teachers, nurses…
Opioid / drug use… Adderall and cocaine… services to treat people
Alcoholism
Drinking water quality
Wastewater: handling sewage
The PANDEMIC!!: vax, boosters, schools, mask mandates…
Tourism: the tourist economy on which many depend; problems: traffic, getting workers
Fishing communities — fewer young people, more regulations, dwindling fish stocks…
Young people moving away
Immigrant populations assimilating
Oyster aquaculture
Local arts scene: art, theater, pottery
Farming communities
Food pantries, food poverty
You can imagine, as producers, we realized we had an almost endless bounty of potential to make great shows.
After some discussion, we decided the best format would be to connect our guests in each country via Zoom so that they could see each other and really get to know each other.
We then had to consider how to make it work. The quality of Zoom (although used by lots of stations) is not as good as we wanted our broadcast to be. We needed to be able to record the guest voice at each end, but without any 'bleed' from the other end.
The diagram to the left explains how we made this happen.
Basically, we used a mixer to separate the signals and a headphone amp to allow more than one person to hear the conversation.
The following are all the current episodes for you to enjoy.
Episode 1 - Pandemic groceries, climate change & clay art: Broadcast - April 7 2022
Providing essential food to communities in lock down. Fearing for the safety of their own staff. Facing unexpected and inexplicable shortages in basic stuffs like toilet paper and flour.
Local grocers became unlikely frontline workers in the early days of the pandemic.
On the island of Martha's Vineyard, just a few miles offshore of Cape Cod, Cronig's Market has been serving the community as an independent grocer for more than 100 years. Owner Steve Bernier has been working in retail food for 57 years. But the first month of the pandemic was unlike anything he'd ever experienced. "When this hit us," he says, "the unknown absolutely blew our mind and scared the daylights out of us."
In the village of Mylor Bridge, Cornwall, Mylor Stores turned to volunteers to keep the community fed through the early days of the pandemic. Chris Henderson, an employee, says volunteers were critical for collecting orders and delivering groceries. "We have a lot of elderly people in our village, and we were worried about those people not being able to get their food because they were told to not go outside for 13 weeks. They had to stay in and self-isolate," Henderson explains. "And of course, we then were inundated with phone calls of elderly people saying, 'How are we going to get food?'"
In the first segment of our program, Chris Henderson and Steve Bernier trade stories of coping in extraordinary times, and of the resiliency of their co-workers and communities.
Music Credits
---
Episode 2 - Community police, housing advocates & oyster farmers: Broadcast - July 29 2022
Sergeant Mike Assad of the Mashpee Police, on Cape Cod, says a good community police officer needs to know their hometown personally. "Get out of the cruiser," he says. "Walk around and just talk to people. Go into businesses and say 'Hi.' You get on a one-to-one name basis with people — that's key."
Another goal? "Solve the little problems before they become the big problems," he says. "Because usually what happens, if you let the small problems kind of fester, then they turn into a big fire and just keep spreading."
But as an officer, it's not always easy to know what your role is when you're called to the scene. "It's almost like you have a different hat each day, or you have the hat in the police car. Like, 'A social hat?' There it goes. 'A law enforcement hat?' And we put that on. 'A mental health hat?' I'm going to put that on." And sometimes, he says, it requires more than one at the same time. "'Can I split a hat in half and put it on top? Because I'm wearing both of them right now...'"
---
Episode 3 - All Ages
How were you shaped by the place where you grew up? What makes you choose to live somewhere? In our new episode of Falmouth to Falmouth, we explore the journey of life in our coastal communities through three vibrant discussions touching on childhood, middle years, and growing older.
---
We have 3 different conversations (click on the player below) to bring to you, and they are all around a common theme, the passage of life, or maybe time and place.
What you can hear here are three conversations between people in Cornwall and Cape Cod and each one focuses on a different age range.
So weve got some young kids who talk to each other and we have two people in their mid thirties who are trying to navigate some tricky choices in life about how to live in a place where rentals are scarce and prices for houses are driven exceedingly high by both second home owners and vacationers or as we say in the UK, holiday makers.
We also play a conversation between two people in their 90's who grew up in these places and have memories of what life was like almost 100 years ago when holiday makes or vacationers were not quiet such a big thing.
This is our original radio collaboration, connecting Cornwall to Cape Cod.
Presented by Jade Dunbar from SourceFM in Falmouth England, and Steve Junker in Falmouth in the USA
This is Falmouth to Falmouth!
Conversations feature Tony Sweet and Jane Slater, Shannon Hulst and Claire Lawson, and Bearwin and Juno, and Amanda and Paola – our students.
Special production assistance was provided by Eve Zuckoff [rhymes with book-off], Jennette Barnes, and Jade Dunbar
Engineering by Simon Neild,
The program was edited by Steve Junker and is produced by Steve Junker and Simon Neild.
---
Music Credits
Gathering Storm & Lake of the Coheeries (Episode 3) - Fred Fried