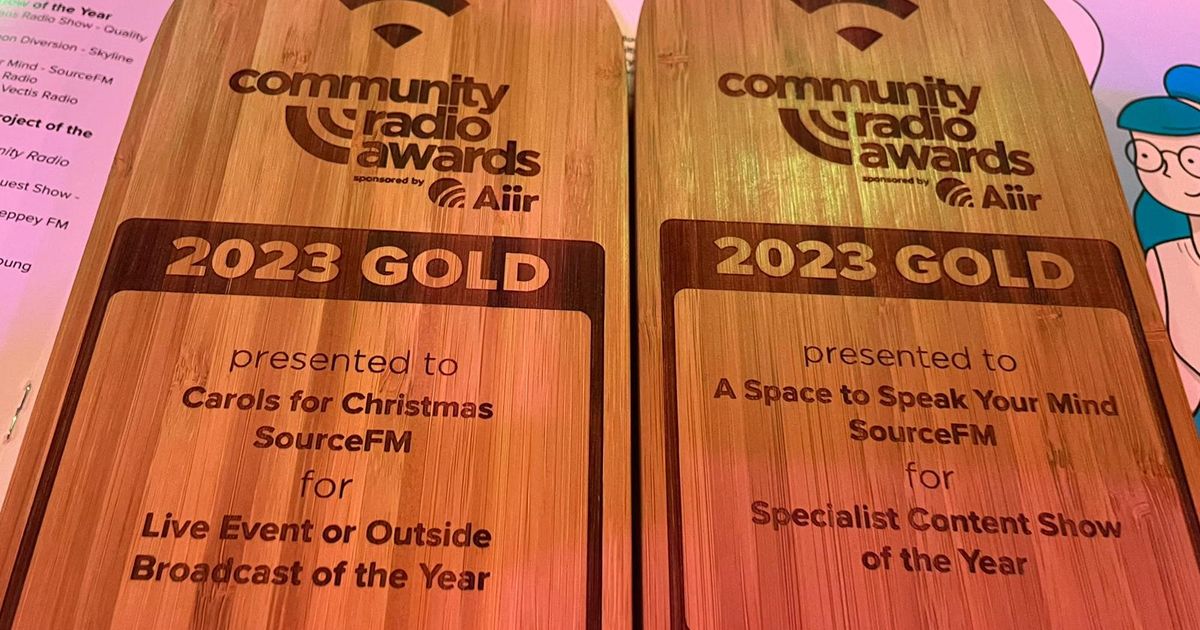 More CRA Awards for SourceFM
---
SourceFM are proud to announce that we collected 2 Gold and 1 Bronze award at this years Community Radio Awards.
---
---
---
---
GOLD - Live Event or Outside Broadcast of the Year - Carols for Christmas
"This was an incredible entry and to be highly commended indeed as a well planned event utilising local presenters with good technical skills and evidenced by a well executed program"
---
GOLD - Specialist Content Show of the Year - A Space to Speak your Mind - working with Cornwall Mind
"This entry connects with a very special specific audience, providing a platform and exploring these issues in a relatable way. The judges particularly commended the partnership with other local community organisations"
---
BRONZE - Community Show of the Year - A Space to Speak your Mind
Carols for Christmas
In 2021, one of our presenters, Jimmy Miller, came up with the idea of putting on a schools Carol Concert at the local venue, Princess Pavilion, now owned by the town of Falmouth.
He and our Chair, Jade Dunbar, spent time contacting the schools to see if there was any interest, and very quickly got a response from two primary schools. The venue was booked, and the children turned up and put on a magnificent show to an audience of their families and members of the public.
The show was really successful, inspiring incredibly positive feed back from the parents and particularly the children. To be able to perform on a big theatre stage in front of their families, relations and friends was such an amazing and important opportunity for them.
---
From Richard Perks - SourceFM representative at the awards
Source FM picked up three awards with the 'A Space to Speak Your Mind' Mental Health Programme receiving its third consecutive year of nominations in the 'Community Radio Show of the year' category gaining its second bronze award.
The show which combines a wellbeing group supported and run by Cornwall Mind won Gold for 'Specialist Content of the Year'. The programme is produced by people with lived experience of poor mental health and the judges 'particularly commended the partnership with… local community organisations'.
The awards took place in Newcastle upon Tyne, the furthest north the award ceremony has been hosted, and it was fantastic that Falmouth and Penryn's Source FM represented Cornwall by being recognised with three awards on the night.
---
---